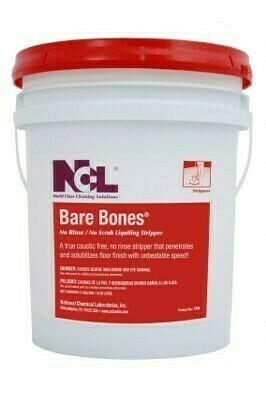 NCL Bare Bones (5 Gal.)
SKU 1058-21
Product Details
NCL Bare Bones (5 Gal.)
No-Rinse, No-Scrub Liquefying Stripper
NCL Bare Bones is a 55% active speed stripper that easily cuts through multi-layers of burnished floor finish. This "true" no-rinse stripper does not contain potassium hydroxide or sodium hydroxide yet is the fastest working liquefier on the market. Low foaming, no scrub and no rinse features make Bare Bones a must for all professional floor care systems.
[tab name="Features"]
Low foaming / Can be used through automatic scrubbers
Contains no potassium or sodium hydroxide / Safe for personnel & flooring
Requires no rinsing / Saves time by eliminating neutralizing and rinsing
No scrubbing machine needed / Reduces equipment costs & can be used in hard to get to places
55% Active / High use dilution for greater economy
[tab name="Specifications"]
Color: Pale Straw
Odor: Sassafras
pH: 11.7
Flash Point: Not available
Upper Cloud Point: >130°F
Lower Cloud Point: < 33°F
Viscosity (cps): < 10 cP
Water Solubility: Complete
Finish Removal: Excellent
Damage to Resilient Tiles: Minimal
Density (lbs/gal)8.1 ± 0.1
Specific Gravity (g/cc)0.97 ± 0.01
Free Rinsing: Yes
Low Foaming: Yes
Shelf Life: 1 year min.
[tab name="SDS"]
https://www.nclonline.com/documents/download/14992/0/Bare%20Bones%20SDS%20English
Save this product for later